Inground Pool Opening & Closing in Buffalo, NY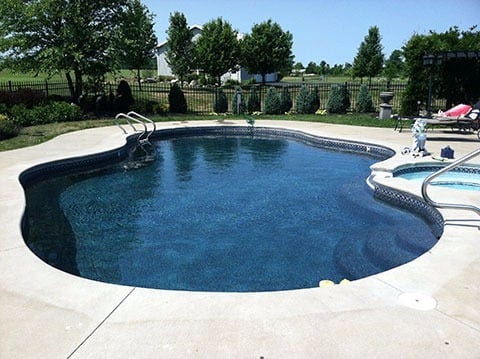 Your pool is a great place to lounge around and relax in the summer, but you most likely don't use it much in the winter. However, the ongoing costs of cleaning and maintenance during this time can add up, costing you a lot of money when you're not even using the pool. Here at Leisure Craft Pools, we offer inground pool closing and opening services to help you save money and extend the life of your pool equipment.
Inground Pool Closing Services
When the weather starts to get too cold for swimming, that's when it's time for professional inground pool closing. We'll remove any accessories, like ladders, diving boards and slides, so that you can store them safely for the winter. After lowering the water level in your pool, we'll clear out all of the piping and plug it up to keep it dry and mildew-free. Lastly, we'll winterize your pool equipment and install a secure cover over your pool. Your pool will be safe and secure until it is time to reopen in the spring.
Inground Pool Opening Services
Once the weather starts warming up again, it's time to reopen your pool. We'll start by removing and cleaning the winter cover and giving your pool a thorough cleaning as well. Once the equipment is back up and running, we'll rebalance the water and chlorine levels. If you had any accessories removed, we'll reinstall all of those so that your pool looks just as it did the previous summer. You and your family won't be able to wait to jump back in!
Contact Us Today to Find Out More
We would be happy to discuss our services with you in greater detail. To learn more about our inground pool opening and closing services, give us a call at 716-684-3100, or get in touch with us online. Our associates can answer any questions you have about our services and set you up for your initial consultation.