Inground Pool Renovation Ellicottville, NY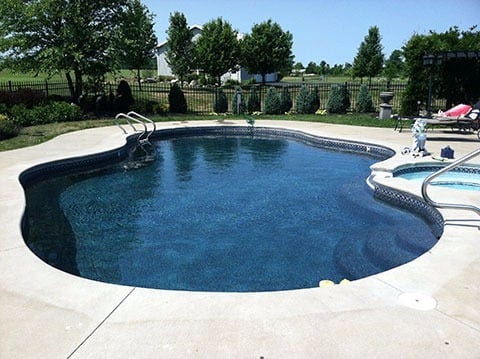 It's time to pick up the phone and being the process of renovating your pool. If you are located in Ellicottville, NY or its surrounding areas, then feel free to give Leisure Craft a call today! We are a pool company that not only is enthusiastic about pools but also has an amazing team of experts with years of experience. We enjoy the entire process of transforming old, existing pools into beautiful works of art (with functional use). Our passion for pools and the overall backyard space has enabled us to envision a renewed version of any existing inground pool in any backyard. At Leisure Craft, we make sure to develop a detailed plan to get our customers the most detail oriented, effective, and yielding results. So, how does it work?
How We Do It

Renovating a pool properly requires a lot of attention to detail and knowledge in order to be done carefully. It may seem like an overwhelming process, but for our team of professionals who have renovated countless pools in Ellicottville, NY and the surrounding areas, it is no problem.
Step 1 -We will drain your swimming pool..
Step 2 - Next, we will begin the prep work by removing or undercutting the waterline tile. Ww will also clean the tiles and chip out old plaster and hollow spots.
Step 3 - After that we apply a bonding agent, which will help the new plaster stick to the existing pool surface.
Step 4 - If applicable, new tile and equipment are installed.
Step 5 - Here we apply plaster or pebble finish. Your chosen finish will be mixed on-site and hand troweled. Note that plaster pools will be filled immediately. Pebble finishes are acid washed one to two days later and then filled.
Step 6 - When your pool is completely filled, our representative will come out and do a thorough walkthrough, go over pool care for your new finish and collect the final payment.
Step 7 - Dive into your new pool!

As you can see, our process is pretty straightforward. We do all of the work, while you get to relax and get excited about your new pool. From start to finish we handle everything so there is no need to involve other companies, contractors, or other pool technicians. We also work quickly to minimize pool downtime. We want you to get back to your pool as quickly as possible.
Here at Leisure Craft, we make sure to provide our clients with quality materials, as it is essential for the pools' durability and aesthetics. We want your new pool to last for years to come, so this will help ensure it.
Contact Us

If you are in the Ellicottville, NY area, and looking for the highest quality pool renovation services, rely on Leisure Craft Pools. Call today and speak with one of our experts!
Contact Us