Inground Pool Service
There is something about having a beautiful inground pool that really brings a backyard together and takes your property to the next level. What's even more special is when you can enjoy a pool that is new, renovated, and well maintained. Whether your pool is damaged and needs a full restoration or you need to make sure that the water stays crystal clear and not murky and green, Leisure Craft Pools is your solution for inground pool service.
Renovation, Maintenance, & Rennovation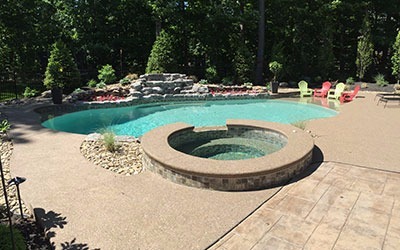 Part of the reason for our success is our time in the industry. Serving Western New York with top-quality inground pool service has been our mission ever since the creation of Leisure Craft Pools in 1972. Our range of services makes us a reliable, go-to source for all inground pool services. Our fully trained, qualified, and insured pool techs will make sure your pool is properly cared for from opening to closing. If your pool is damaged beyond use, we can fully renovate and restore your pool. That is, after all, our specialty.
We have transformed a number of inground pools over the years, taking backyards to the next level. To view some of our work, please visit our website gallery and see for yourself.
Contact Us
For more information on our inground pool services, don't hesitate to call our pool experts or send us a message! We serve a large area, so don't let your location deter you from reaching out since we may very well be able to get to your location!