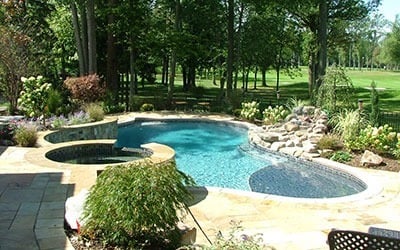 Ellicottville, NY Pool Restoration Services
We serve Ellicottville, NY with high quality pool restoration and renovation services. The short drive is no problem for our team of experts. We will arrive on site with all the necessary tools and equipment needed for complete pool transformation or restoration. Enjoy the beauty of the mountains in Ellicottville from your very own backyard in your better-than-new renovated pool!
Services We Provide Our Ellicottville Customers:
Pool Restoration
Renovation
Tile & Coping
Decking
Maintenance
Automation
Lighting
Pool Equipment Sales
Water Feature Additions
Sandblasting
Plastering
Resurfacing
When you have an existing inground pool, it is not the final product. There can always be renovations and restorations for pools that are seemingly ruined. Even if you are unsatisfied with the shape of your pool, Leisure Craft can reshape it! If your old pool decking/concrete is in rough shape, we can restore it to look brand new. We are all about making our pools look better than new.
Why Rely On Leisure Craft Pools
Ever since 1972, we have been transforming pools. Our family business has had success serving countless customers with all different kinds of pools. The quality of our work can be seen in our gallery. Excellent customer service has also earned us a reputation as a reliable pool restoration company. We take pride in our work and our overall processes and final result. Turning your backyard into a complete paradise that you can relax in and enjoy with friends and family brings us great satisfaction.
Please give us a call or fill out the contact form and we will get in touch with you as soon as we can!